The Alarm Forges 'Forwards' with Brand New Album on June 2
THE ALARM's Mike Peters is returning to life after a year dominated by pneumonia and a serious leukemia relapse, announcing a triumphant new album, Forwards, out June 2, 2023 and a video for the title track, out today. 

"I literally took my guitar into [the] hospital with me," says Peters. "I was on the ward for such a long time, I started writing these songs in between IV sessions and the first people to hear the music were the very people who were trying to keep me alive."

In between hospitalization periods, Peters took the band into the recording studio with producer George Williams (Babyshambles, Coloursøund) and—although barely able to speak due to the debilitating effects of chronic illness—he was able to focus the sessions on creating the music for ten new, life affirming Alarm songs.
"I've been to places only deep suffering can take the human spirit and, in the darkness, I clung onto every piece of light I could find to work my way back to life. This was the energy that drove me to write and record Forwards."
Forwards is alive with melody and invention and destined to contend for a top place amongst The Alarm's extensive discography, one that boasts over 17 Top 50 UK singles and worldwide record sales of over six million. The previous three Alarm albums have all made the British Rock Album Chart Top 10 with Equals hitting number 2 in 2018, Sigma topping the chart in 2019, and Omega climbing to number 8 in 2022.

"A lot of artists have to kill to make a record like Forwards and with the challenges that came my way in 2022," he says."I certainly had to kill or be killed to realize the ambition in these songs. It was literally life or death making this record. I've already taken so much from life, that when I was in the hospital stricken with chronic illness, I wasn't sure if I was going to be spared another opportunity to live. Fortunately for me, I was granted more time on earth and the challenge remains as ever, to make the most of every single second – forwards."

The first order of business post-hospital was The Alarm's triumphant return to the stage with the sold-out annual event The Gathering, which had been suspended in recent years due to the pandemic. More than 1,500 fans attended The Gathering. "People traveled from Seattle, Los Angeles, New York, USA, Australia, all over Europe and from various parts of the United Kingdom," reports The North Wales Pioneer Newspaper. "The weekend has been the ultimate tonic for me. I'm back. The future has opened wide again for me," Peters told the newspaper.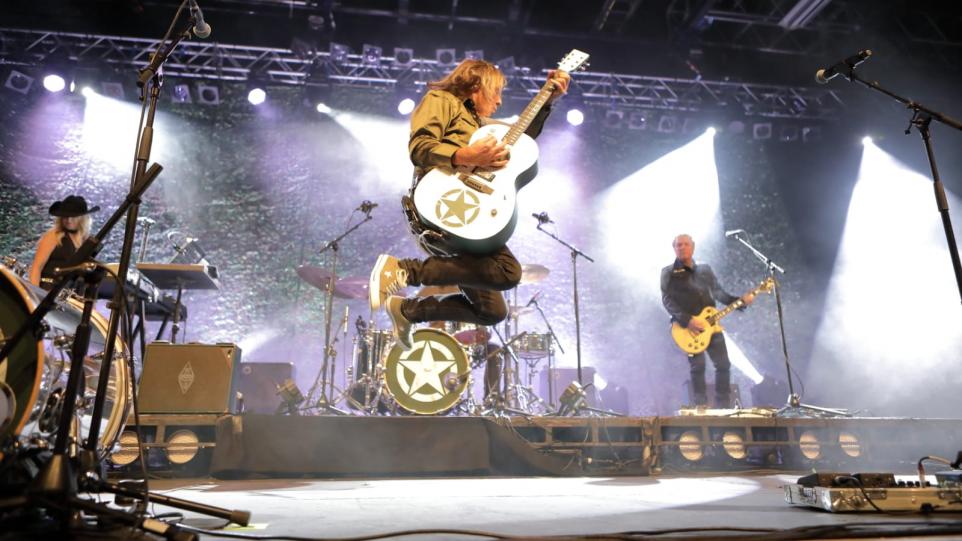 THE ALARM TOUR DATES:
Apr 15 St David's Hall, Cardiff, UK
Jun 23     Gramercy Theater, New York, NY
Jun 24     Gramercy Theater, New York, NY