THE CHURCH shimmers with "C'est La Vie" single + Album out Feb. 24th
"C'EST LA VIE," the new single from seminal psych-guitar masters THE CHURCH, continues the retro futuristic narrative that began with the release of the title track from their upcoming album THE HYPNOGOGUE (release date: February 24, 2023 via Communicating Vessels). Reading like a short story from visionary science fiction author Philip K. Dick, ("A Scanner Darkly," "Electric Dreams"), the dystopian fable revolves around the mythic machine that extracts music directly from subconscious dreams.
 
While the single "The Hypnogogue" introduces characters "Sun Kim Jong" (Korean scientist/occult dabbler and creator of the aforementioned contraption) and her love interest/rockstar "Eros Zeta" who wants to employ the machine to revive his flailing career, "C'est La Vie" continues the narrative which serves as a cautionary tale from Zeta's agent not to mess with the Hypnogogue. "His manager has heard some bad rumors about it and he doesn't want his boy all strung out on this unknown thing," explains STEVE KILBEY, the bassist, vocalist and founder of The Church. "Musically, the song is a fast-paced rocker very much initiated by our guitarist Ian Haug. But it has plenty of twists and turns and ends up fading away in a delicate and winsome way." Purchase or stream the shimmering new single here: https://orcd.co/vdxee8p
 
"The Hypnogogue is the most prog rock thing we have ever done. 'We've also never had a concept album before," he says. "It is the most 'teamwork record' we have ever had. Everyone in the band is so justifiably proud of this record and everyone helped to make sure it was as good as it could be. Personally, I think it's in our top three records."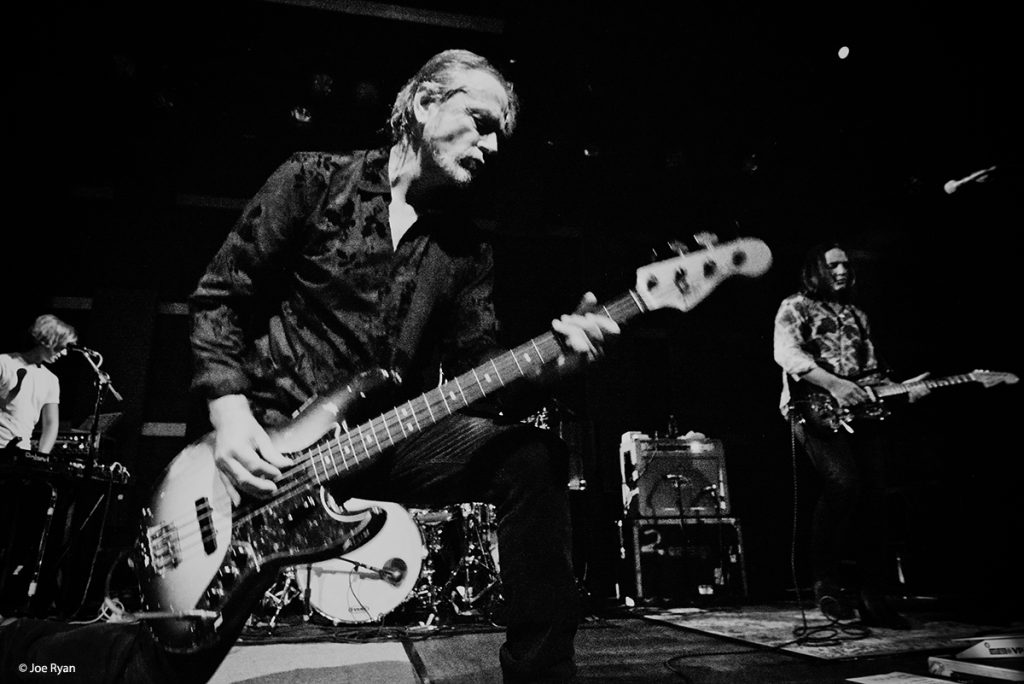 Entering their fourth decade of making music and playing live shows with all the fierce creative energy of their early years, The Church have announced a North American tour that kicks off on March 11th in Los Angeles and circles the States, concluding on April 8th in Pelham, TN (tour dates below).
 
Starting out in 1980, The Church have continued to expand their highly cinematic and atmospheric blend of indie rock, shimmering post-punk, icy dreampop and psychedelic post-rock without any retread. Their expansive music career yielded a string of hit songs including "Under the Milky Way," "Reptile," "The Unguarded Moment" and "Almost With You" amongst others and their equally stellar live shows have been deemed "spectacular" by MAGNET Magazine, citing their "dreamy psychedelia that will daub your evening with shades of paisley." Their most recent U.S. performance at 2022's Cruel World Festival alongside Blondie, Bauhaus and Morrissey was heralded as "a subtle delight… that captivated the late afternoon audience" (Orange County Register), "providing the perfect soundtrack" (Rock Cellar Magazine).
 
The 2022 epic five-piece line-up is bassist, vocalist and founder Steve Kilbey; with long-time collaborator Tim Powles, drummer and producer across 17 albums since '94; guitarist Ian Haug formerly of Australian rock icons Powderfinger, who joined the band in 2013 and Jeffrey Cain (Remy Zero), touring multi-instrumentalist who is now a full-time member of The Church since the departure of Peter Koppes in early 2020. The band have also recruited Ashley Naylor, long-time member of Paul Kelly's touring band and one of Australia's finest and most respected guitarists (Even, The Grapes, The Stems).
 
The Church's 26th album THE HYNOGOGUE will be released on February 23, 2023 via Communicating Vessels.

TOUR DATES
Mar 11  Los Angeles, CA               The Belasco – Ticket link
Mar 12  Solana Beach, CA           Belly Up Tavern – Ticket link
Mar 14  San Francisco, CA          Great American Music Hall – Ticket link
Mar 16  Portland, OR                     Aladdin Theater – Ticket link
Mar 17  Tacoma, WA                      Elks Temple Ballroom – Ticket link
Mar 21  Englewood, CO                Gothic Theater – Ticket link
Mar 23  Minneapolis, MN            Fine Line Music Hall – Ticket link
Mar 25  St Louis, MO                    Delmar Hall – Ticket link
Mar 26  Chicago, IL                        Thalia Hall – Ticket link
Mar 28  Kent, OH                           Kent Stage – Ticket link
Mar 29  Philadelphia, PA            Theatre of Living Arts – Ticket link
Mar 30  New York, NY                  Gramercy Theater – Ticket link
Mar 31  Boston, MA                       The Sinclair – Ticket link
Apr 1    Hartford, CT                     Infinity Hall – Ticket link
Apr 3    Asbury Park, NJ              Asbury Lanes – Ticket link
Apr 4    Alexandria, VA                 Birchmere Music Hall – Ticket link
Apr 5    Norfolk VA                         The Norva – Ticket link
Apr 6    Carrboro, NC                    Cat's Cradle – Ticket link
Apr 8    Pelham, TN                        The Caverns – Ticket link