STYX Brought Their Signature Harmonies to Savannah with Legendary Rock 'n Roll Show
The legendary rock band Styx took the stage at the Johnny Mercer Theatre in Savannah, GA on Thursday night —April 20, 2023— and they did not disappoint. The theatre was packed with fans of all ages, and the energy was palpable from the moment the band appeared on stage.
From the opening notes of "To Those," it was clear that the band Styx —Lawrence Gowan (Lead vocals, keyboards), James "JY" Young (Lead vocals, guitars), Tommy Shaw (Lead vocals, guitars), Ricky Phillips (Bass, guitar, vocals), Chuck Panozzo (Bass, vocals), and Todd Sucherman (Drums, percussion)— was in top form. The band's signature harmonies were as tight as ever, and their musicianship was impeccable.
In addition to many of their hits, Styx performed some deep cuts from their extensive catalog, including "The Grand Illusion" and "Crystal Ball," which pleased the die-hard fans in the audience. They even performed "Too Much Time on My Hands", which got the crowd on their feet and singing along with every word.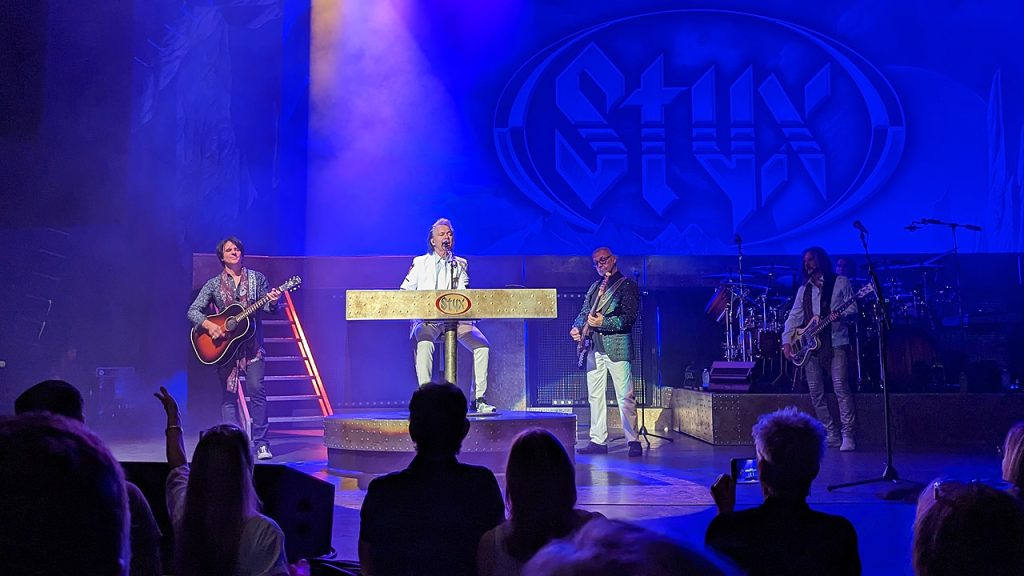 Throughout the show, the band's stage presence was dynamic and engaging, with flashy lights and stunning visual effects enhancing the overall experience. They also showed their appreciation for their fans, with Gowan frequently engaging with the audience and Shaw thanking the crowd for their continued support.
One of the highlights of the concert was when Styx performed "Come Sail Away," arguably their most famous song. The audience sang along with every word, creating a magical moment that will stay with me for a long time.
As the concert drew to a close, Styx left the stage to a standing ovation, but the fans weren't satisfied yet. The band returned for an encore, performing "Mr. Roboto" and "Renegade" to the delight of the crowd. It was the perfect ending to an incredible night of rock and roll.
Styx proved that they still have what it takes to rock a crowd, decades after they first burst onto the scene. Their performance was energetic, polished, and filled with all the classic hits that fans have come to love. If you get the chance to see Styx in concert, I highly recommend it.