The Convalescence Announce 2022 Spring Tour
Toledo, Ohio heavy-metal act The Convalescence has just announced their first headline tour for 2022! Introducing "A Legacy In Blood Tour" featuring co-headlining from The Convalescence and Necronomicon. Support to be provided by ALUKAH, Reflections of Flesh, The Breathing Process.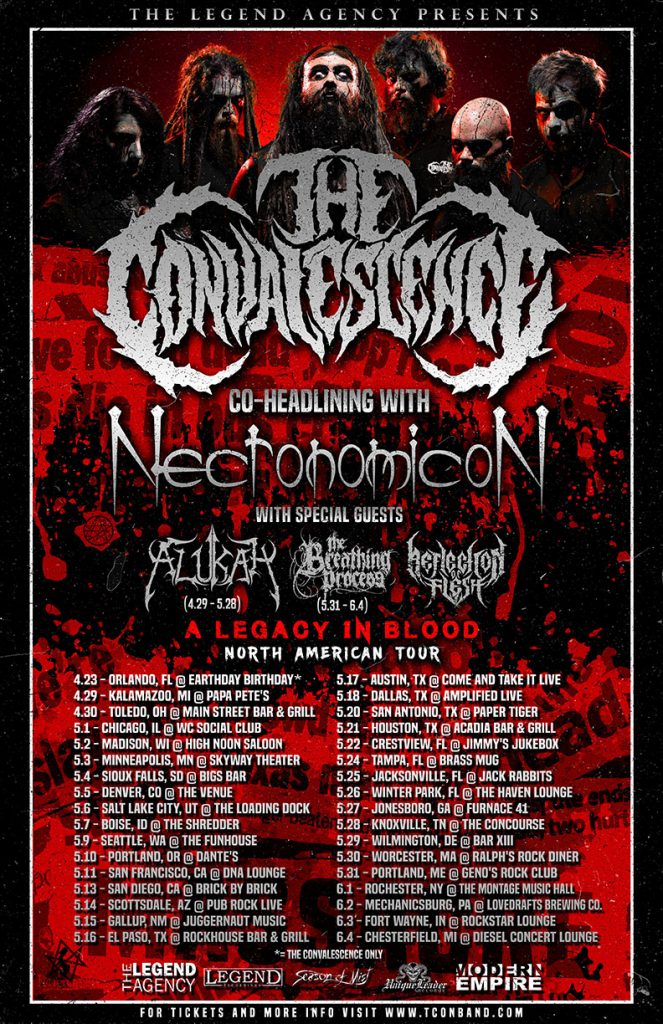 When we spoke with The Convalescence vocalist, Keith Wampler, here's what he had to say about the upcoming tour.
"We're very excited to be co-headlining the "A Legacy In Blood Tour" with Necronomicon and support from our good friends in Alukah, The Breathing Process, and Reflection Of Flesh. We will be playing songs from all four of our full-length albums throughout the tour and have been hard at work putting together the goriest and most brutal stage show we've ever done. See you all soon!"
Tickets On Sale At: tconband.com

4.23 – Orlando, FL @ Earthday Birthday w/Godsmack * 4.29 – Kalamazoo, MI @ Papa Pete's 4.30 – Toledo, OH @ Main Street Bar & Grill 5.1 – Chicago, IL @ WC Social Club 5.2 – Madison, WI @ High Noon Saloon 5.3 – Minneapolis, MN @ Skyway Theater 5.4 – Sioux Falls, SD @ Bigs Bar 5.5 – Denver, CO @ The Venue 5.6 – Salt Lake City, UT @ The Loading Dock 5.7 – Boise, ID @ The Shredder 5.9 – Seattle, WA @ The Funhouse 5.10 – Portland, OR @ Dante's 5.11 – San Francisco, CA @ DNA Lounge 5.13 – San Diego, CA @ Brick By Brick 5.14 – Scottsdale, AZ @ Pub Rock Live 5.15 – Gallup, NM @ Juggernaut Music 5.16 – El Paso, TX @ Rockhouse Bar & Grill 5.17 – Austin, TX @ Come And Take It Live 5.18 – Dallas, TX @ Amplified Live 5.20 – San Antonio, TX @ Paper Tiger 5.21 – Houston, TX @ Acadia Bar & Grill 5.22 – Crestview, FL @ Jimmy's Jukebox 5.24 – Tampa, FL @ Brass Mug 5.25 – Jacksonville, FL @ Jack Rabbits 5.26 – Winter Park, FL @ The Haven Lounge 5.27 – Jonesboro, GA @ Furnace 41 5.28 – Knoxville, TN @ The Concourse 5.29 – Wilmington, DE @ Bar XIII 5.30 – Worcester, MA @ Ralph's Rock Diner 5.31 – Portland, ME @ Geno's Rock Club 6.1 – Rochester, NY @ The Montage Music Hall 6.2 – Mechanicsburg, PA @ Lovedraft's Brewing Co. 6.3 – Fort Wayne, IN @ Rockstar Lounge 6.4 – Chesterfield, MI @ Diesel Concert Lounge * – The Convalescence Only